Neck massager
Do you often suffer from neck pain and stiffness?
Do you feel like you've tried everything to relieve pain in your neck, but nothing has really helped? With our neck massager Donnerberg Premium, you can finally experience pain relief and relaxation you deserve. Say goodbye to ineffective remedies and get a powerful solution that works.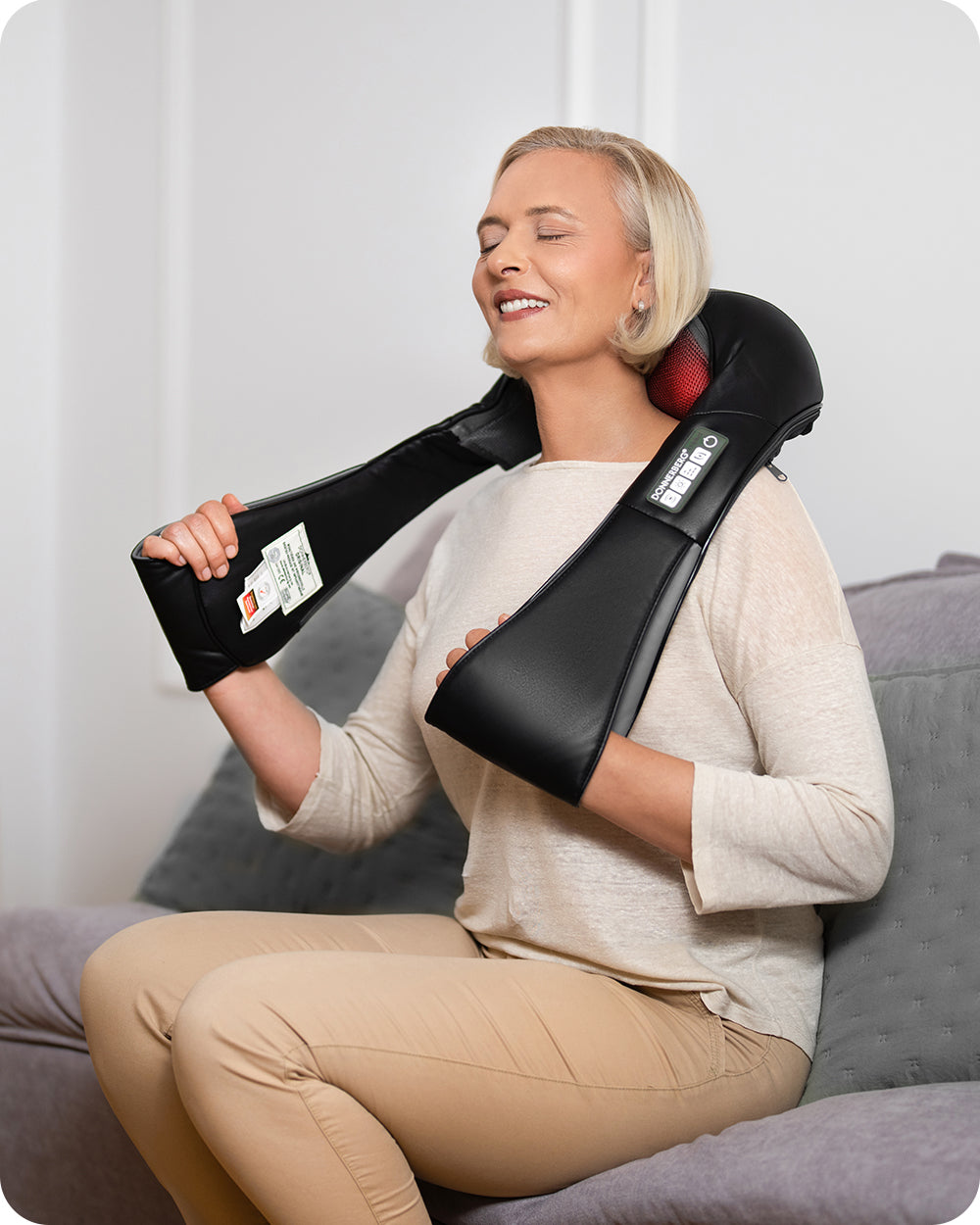 Are you tired of dealing with stubborn knots, muscle tension and spasm, headaches, and other issues that could be effectively treated with targeted deep tissue massage? Do you want to know what you can do about it? If you want to know what is an effective and natural solution for all these conditions, let us introduce you to our Premium neck massager.
How does the neck massager work?
Perfect fit for every body part
FULL-BODY RELAXATION.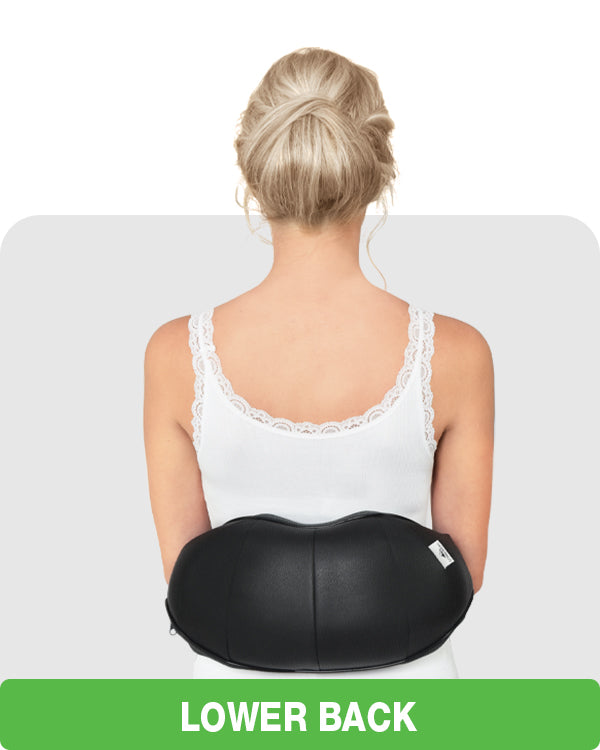 The ergonomic design of the neck massager with 8 flexible massage nodes allows it for you to effortlessly target every muscle group with precision. Not only does it knead away neck pain and tension, but it also provides effective and thorough massages for each and every achy muscle.
At-home wellness
FEELS LIKE THE TOUCH OF HUMAN HANDS.
8 flexible massage nodes with infrared heat that create a 4-dimensional effect are made to effortlessly glide over your tight muscles, simulating the soothing touch of real hand massage. Whenever you need it, indulge in a perfectly relaxing massage that feels remarkably natural.
Neck massager with soothing heat
MELT AWAY STRESS AND TENSION.
Customize your perfect temperature with two adjustable heat levels, making sure a massage is tailored to your needs. The built-in overheating protection guarantees worry-free use.
Experience the therapeutic benefits of heat that can improve blood circulation, relieve tight muscles and spasm, reduce stress and anxiety, promote sleep.
Shiatsu + Vibration massage
THE POWER OF TWO TECHNIQUES FOR COMPLETE RELIEF.
The Donnerberg Premium Shiatsu neck massager is based on the traditional Japanese massage technique, Shiatsu. It uses targeted pressure and kneading movements to relieve tension and stimulate energy flow along the body's meridians, promoting a state of balance and relaxation.
Our neck massager features an optional vibration function. Micro-vibrations can help relax and release tension in the fascia. By stimulating deep muscle tissue, the vibration function can improve your overall range of motion and enhance your quality of life.
Why suffer from discomfort or tension when the solution is within reach?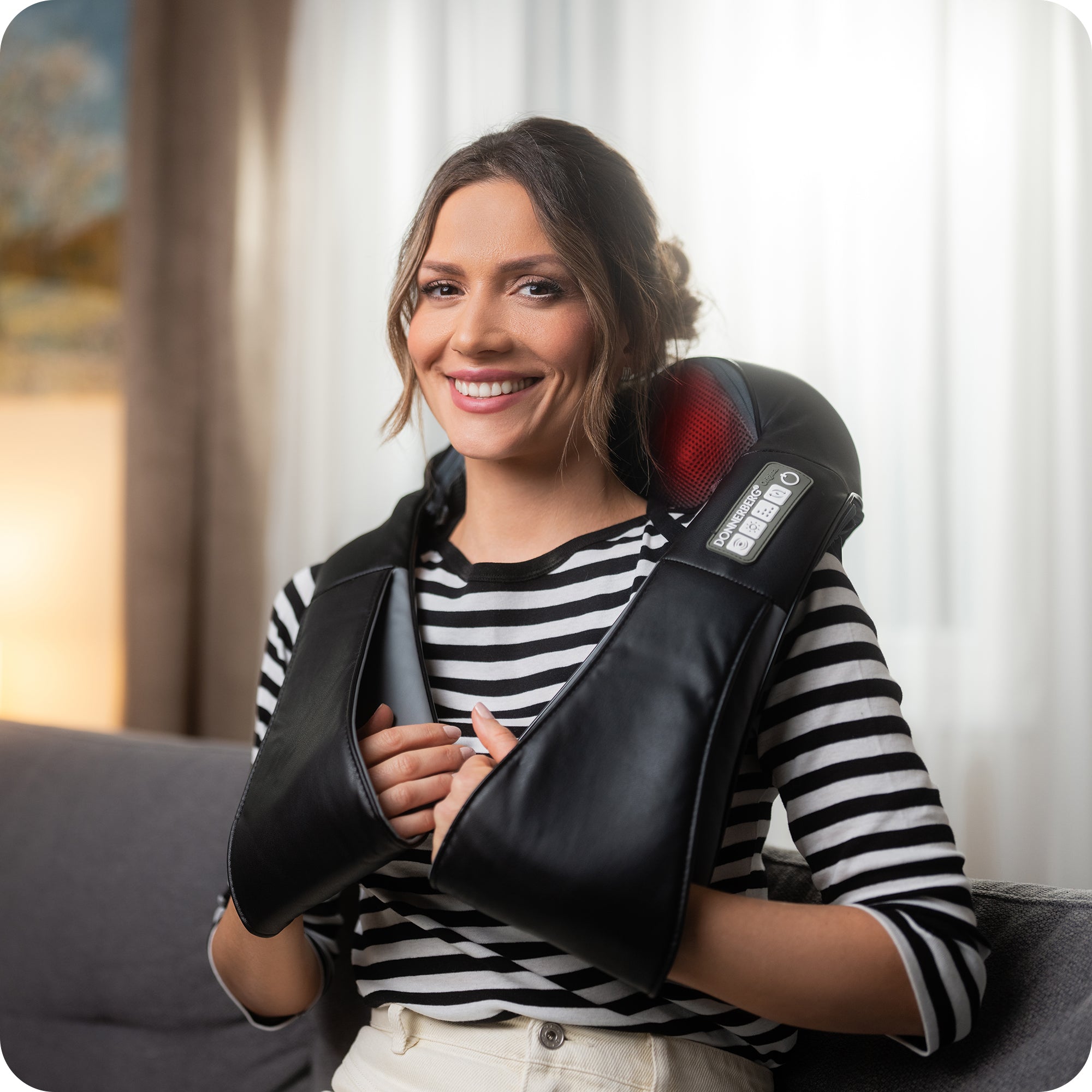 Say goodbye to the hassle of booking and paying for massage appointments over and over again. With the Donnerberg neck massager, pain relief is always within your reach. Whether you are at work, at home, or on the go, you can enjoy a relaxing massage at the touch of a button, without having to leave your home. It is a convenient and cost-effective way to soothe your muscles and ease tension.
Why should you invest in the Premium neck massager?
We are committed to delivering top-quality massage devices that you can trust. Our neck massager is no exception - with a 7-year warranty and powerful motor, it is designed to provide you with consistent and effective performance for years to come.
Donnerberg silent drive motor
CONSISTENT AND POWERFUL PERFORMANCE EVERY TIME.
Our motor is built with cutting-edge technology to ensure durability and endurance. Whether you're seeking a soothing relaxation massage or a more intense relaxation experience, the Donnerberg power motor delivers a constant energy supply with minimal energy consumption, using only 24 watts.
Hygienic and durable
EXCHANGEABLE AND RENEWABLE COVERS.
With the patented zipper design, you can easily remove and wash the cover in the washing machine at 30°C. Plus, the package includes two spare covers, ensuring that the device always stays clean and hygienic, even when several people use it at the same time. For added convenience, the Donnerberg neck massager also comes with a hygienic cloth that can be attached with a velcro fastener, allowing you to enjoy a relaxing foot massage.
User-friendly control panel
PERSONALIZED MASSAGE AT THE TOUCH OF A BUTTON.
With the intuitive control panel, you can effortlessly adjust the speed and direction of the massage to suit your preferences. Easily control the intensity of the infrared heat function, or activate the vibration massage. Enjoy a personalized massage at the simple touch of a button.
Recommended and certified
THE AWARD-WINNING NECK MASSAGER.
The Donnerberg neck massager has been praised for its exceptional quality and top-of-the-line features! It is recommended by the German Olympic Sports Association ("DOSB") and it received the top grade of 1.3 ("very good") in the comparison test in the category "neck massagers" by the renowned German Society for Consumer Studies "DtGV".
Relaxation is just a few clicks away.
Order your massager today!
Free delivery
We offer shipping within the EU/EEA on orders over £29.
Free 30-day returns
Try and test your favorite massager with our 30-day money back guarantee!
7-Year warranty
Shop with confidence. You can trust that your Donnerberg product is built to last.
Reliable customer support
Our team of multilingual experts is available on weekdays from 08:00 AM to 04:00 PM to assist you with advice and support.
//www.donnerberg.net/cdn/shop/files/muscle_tension.jpg?v=1689932860
//www.donnerberg.net/cdn/shop/files/muscle_pain_relief_c6030224-387e-4a85-a854-b8ae74a2db96.jpg?v=1689758492
//www.donnerberg.net/cdn/shop/files/neck_massager_beige.jpg?v=1689758432
//www.donnerberg.net/cdn/shop/files/neck_massage_76daec86-2c4d-469d-9624-e5cb7339e590.jpg?v=1689758399
//www.donnerberg.net/cdn/shop/files/shoulder_massage.jpg?v=1689758410
//www.donnerberg.net/cdn/shop/files/full_body_massage_55bf810e-4e0f-4f1d-af1d-cd370088efc0.jpg?v=1689758391
//www.donnerberg.net/cdn/shop/files/back_massage_14751d55-ba0c-419a-8317-23cbb09fbc7f.jpg?v=1689758391
//www.donnerberg.net/cdn/shop/files/leg_massage_7d42f2f4-fe45-468d-8f83-a6d7e21e23aa.jpg?v=1689758406
//www.donnerberg.net/cdn/shop/files/massage_nodes_beige.jpg?v=1689933233
//www.donnerberg.net/cdn/shop/files/heat_levels_diagram.jpg?v=1689933221
//www.donnerberg.net/cdn/shop/files/2_levels_of_heat.jpg?v=1689757319
//www.donnerberg.net/cdn/shop/files/shiatsu_neck_massager_with_heat.jpg?v=1689758446
//www.donnerberg.net/cdn/shop/files/shiatsu_advantages.jpg?v=1689933638
//www.donnerberg.net/cdn/shop/files/vibration_massage_advantages.jpg?v=1689933644
//www.donnerberg.net/cdn/shop/files/massage_advantages_199a882f-62ae-4dcd-a534-51c2866a7c94.jpg?v=1689933786
//www.donnerberg.net/cdn/shop/files/muscle_tissue_massage.jpg?v=1690989926
//www.donnerberg.net/cdn/shop/files/massager_for_neck_pain.jpg?v=1689758429
//www.donnerberg.net/cdn/shop/files/portable_neck_massager.jpg?v=1689758442
//www.donnerberg.net/cdn/shop/files/heated_neck_massager.jpg?v=1689758417
//www.donnerberg.net/cdn/shop/files/neck_massager_with_heat_be9ecb2f-101c-4f30-8837-986c5fa7511c.jpg?v=1689758435
//www.donnerberg.net/cdn/shop/files/Donnerberg_neck_massager_beige_a0659373-21ef-4cae-b61d-07ada342876c.jpg?v=1689933832
//www.donnerberg.net/cdn/shop/files/neck_massager_beige_7_year_warranty.jpg?v=1690989936
//www.donnerberg.net/cdn/shop/files/motor.jpg?v=1689933239
//www.donnerberg.net/cdn/shop/files/spare_cover_beige.jpg?v=1689757524
//www.donnerberg.net/cdn/shop/files/neck_massager_beige_console.jpg?v=1689757521
//www.donnerberg.net/cdn/shop/files/neck_massager_certificates.jpg?v=1689933245
//www.donnerberg.net/cdn/shop/files/donnerberg_certificates.jpg?v=1690989925
//www.donnerberg.net/cdn/shop/files/neck_massager_reviews.jpg?v=1689933256
//www.donnerberg.net/cdn/shop/files/premium_Beige_expert_review.jpg?v=1690989939
//www.donnerberg.net/cdn/shop/files/Neck_massager_featured_in.jpg?v=1689933250
//www.donnerberg.net/cdn/shop/files/donnerberg_certificates.jpg?v=1690989925