Vibrating exercise machine Thera
Are you eager to improve your physical performance and overall health at the same time?
Have you tried various options but found none that cater to your specific health conditions while also effectively boosting your fitness levels? Look no further, as we have the perfect solution for you: the vibrating exercise machine Thera.
What makes the vibrating exercise machine Thera the perfect choice?
If you are looking for a way to enhance your physical fitness while prioritizing your health, and you are wondering how to strike the right balance, let us introduce you to the Thera vibrating exercise machine.
Improve your well-being
INTENSIVE DEEP MUSCLE TRAINING.
Vibration training targets and strengthens deep muscles, releasing tension in tight fascia. The deep muscles in your back, in particular, play a vital role in maintaining a straight spine and correct posture, leading to improved overall well-being. Training on the Thera vibrating exercise machine not only boosts your fitness progress but also enhances coordination and balance. The vibrating exercise platform enables targeted preventive training to avoid injuries and maximize your physical performance. Additionally, using the whole-body vibration can increase bone density, providing significant benefits, especially for individuals with osteoporosis.
3 in 1
THREE VIBRATION MODES FOR A DYNAMIC TRAINING EXPERIENCE.
Oscillation
Oscillation offers a multitude of benefits and is suitable for various muscle groups. It is gentle on the joints, making it ideal for beginners and people of all ages. The natural oscillations increase body awareness, postural control, and muscle strength. As you progress to higher levels, oscillations provide an intense full-body workout. The Donnerberg whole body vibration exercise machine provides an amplitude ranging from 2.2 to 17 mm for oscillation vibration. The frequency ranges from 3.5 to 7.5 Hz.
Horizontal vibration
Horizontal vibration offers a higher level of challenge compared to oscillation and can benefit both seniors and athletes in their preventive
training program. It contributes to improving bone density and overall skeletal strength. Additionally, it supports muscle development, fitness enhancement, stimulation of tired muscles (deep muscles), and improves coordination. The amplitude of horizontal vibration is 14 mm (left right movement), and the frequency ranges from 2.5 to 5.5 Hz.
3D Vibration
The 3D vibration of the Thera vibrating plate combines the beneficial effects of oscillation and horizontal vibration. This unique combination ensures a demanding and comprehensive muscle activation, leading to faster and more effective results compared to traditional strength training. It also minimizes stress on bones and joints, making it particularly advantageous for individuals with specific health conditions. Training with 3D vibration can bring multiple positive effects, including body fat burning, increased blood circulation, and enhanced coordination. The frequency ranges for 3D vibration are between 6 and 13 Hz.
TAILORED TRAINING FOR ALL, EVEN WITH HEALTH CONDITIONS.
Vibration plates are widely used in fitness, medicine and physical therapy. The versatile Thera vibrating plate offers a multitude of benefits and can be used both for preventive and therapeutic purposes, even in the presence of certain health conditions. It has proven to beneficial for conditions such as osteoporosis, sarcopenia, circulation disorders, and muscle atrophy caused by injuries. Prior to using the plate for existing medical conditions, it is recommended to consult with a healthcare professional to appropriately adjust the vibration frequency.
Why waste time when the Thera vibration exercise machine is the perfect solution you have been searching for?
With the Donnerberg Thera vibrating machine, you can engage in targeted vibration training to effectively strengthen your deep muscles. Begin your fitness journey towards a fitter and healthier lifestyle today. Whether you are a professional athlete or a fitness enthusiast, the Donnerberg Thera will inspire you and help you in reaching your fitness and health goals.
What makes the vibrating exercise machine Thera the ideal choice for you?
The Thera vibrating machine provides a unique form of exercise and delivers maximum fitness results in less time, thanks to its effective vibration training. You can strengthen your muscles and improve balance three times faster. At the same time, it alleviates discomfort and helps recover injured muscles and joints.
German trusted brand
YOUR SATISFACTION, OUR TOP PRIORITY.
The Donnerberg Thera stands out for its exceptional quality. It boasts a robust plastic housing that ensures precise transmission of vibrations to the body, while effectively preventing any vibrations from transferring to the floor and generating unwanted noise. The exercise plate's flat surface provides a stable and natural standing area, allowing for unrestricted foot movement and the ability to position them parallel to each other. This feature not only minimizes the risk of injuries but also makes your vibration training even more effective and enjoyable.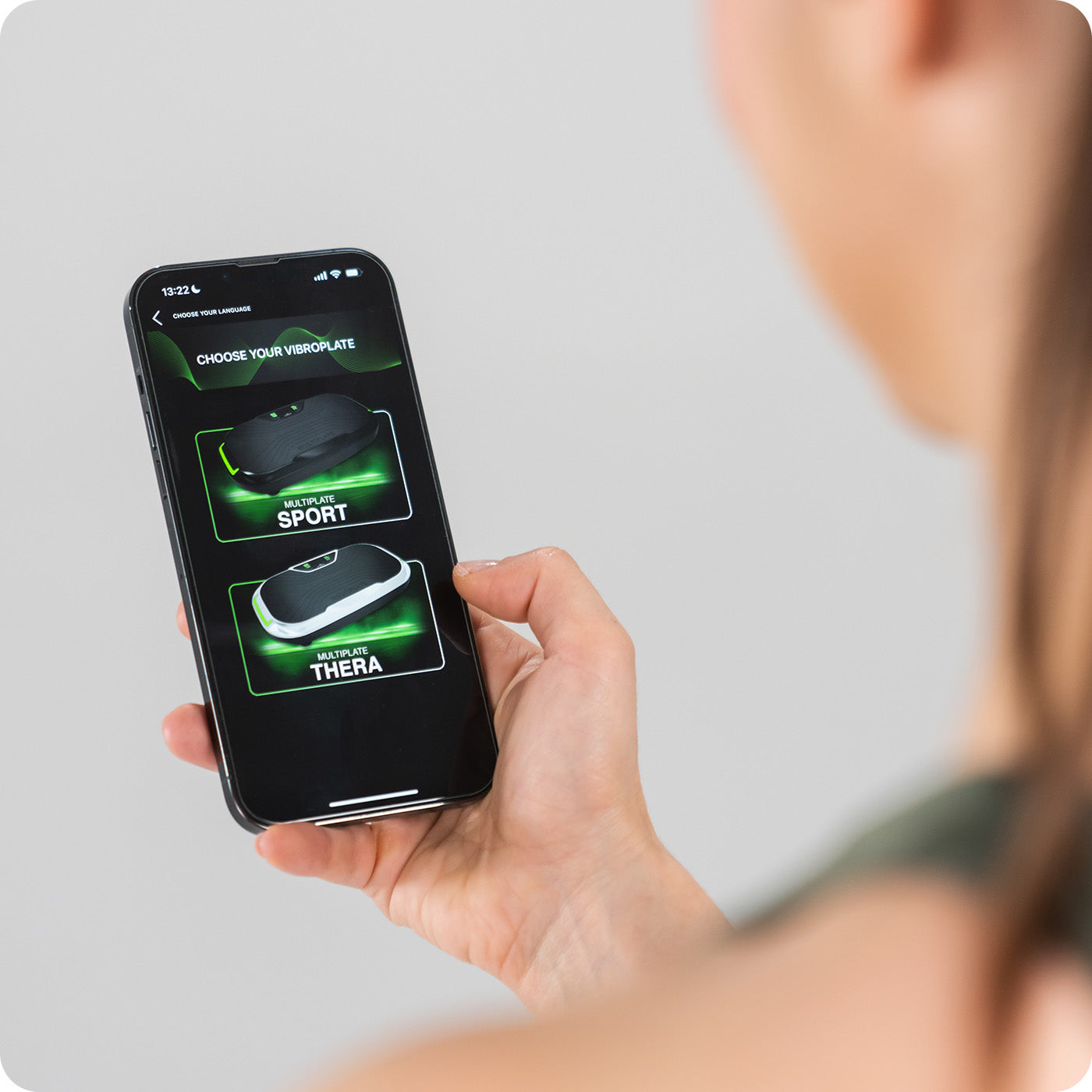 Fitness training right at your fingertips
FREE APP FOR CUSTOMIZED WORKOUTS.
Make the most of your workout with the free MULTIPLATE training app! Explore a selection of over 150 exercises targeting your entire body. Whether you are seeking specialized routines for specific health conditions or seeking soothing massage and stretching exercises, this
app offers a comprehensive training program tailored to your unique needs. Download the MULTIPLATE training app now and embark on a captivating fitness journey that empowers you to achieve your goals and enhance your well-being.
Additional accessories for total body workout
ALL YOU NEED FOR FITNESS SUCCESS.
In addition to the Thera vibration plate, you will receive a wide range of accessories for an effective full-body workout. This includes resistance bands in three different strengths and suspension trainers for upper body training. You will also have a Pilates bar to further engage your leg muscles. The oval yoga ball is perfect for improving your balance and strengthening your core muscles. With this versatile range of accessories, you can incorporate variety into your workout routine and target specific muscle groups.
The Donnerberg innovative sports seat is specifically designed for the Thera and Sport vibration plates. It ensures a stable posture, even during intense workouts. With its premium memory foam seat, it allows for a wide range of exercises while providing a reliable support. The seat can also be used as a seating surface, dumbbell, or push-up grip, adding versatility to your training routine.
Do you have any questions?
We have been committed to the innovation and development of highest quality wellness and fitness equipment for many years. If you have any questions, please do not hesitate to contact us. We will be happy to help!
Your fitness journey starts here.
Order your vibration plate today!
Free delivery
We offer free shipping to EU/EEA on orders over £29.
Free 30-day returns
Try and test your favorite product with our 30-day money back guarantee!
2-Year warranty
Shop with confidence. You can trust that your Donnerberg product is built to last.
Reliable customer support
Our team of multilingual experts is available on weekdays from 08:00 AM to 04:00 PM to assist you with advice and support.