FORGET ABOUT NECK AND BACK PAIN
AND ENJOY LIFE TO THE FULLEST!
Neck and back massager
KNEAD AWAY THE PAIN.
Have you tried every possible method to relieve stubborn knots and tension in your neck, shoulders and back, only to be left disappointed and without any results? Waste no more time and treat yourself to a pain-relieving massage with the Donnerberg neck and back massager!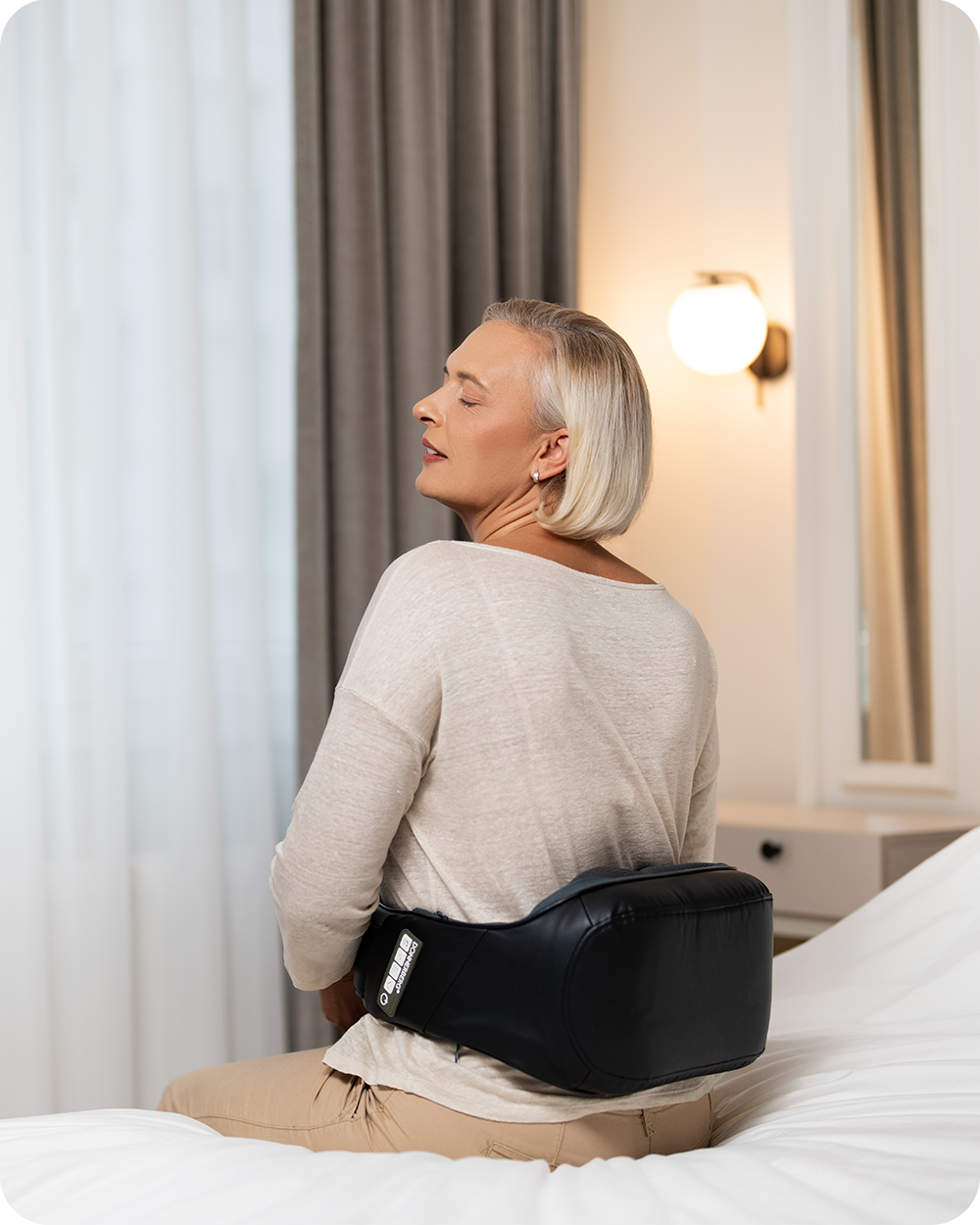 Are you suffering from persistent muscle pain and discomfort after long periods of sitting or standing?  Are you still looking for a natural solution to alleviate neck and back tension and headaches? We know what you can do about it and would like to introduce you to our new generation neck and back massage device – Klopfy.
What are the benefits of using the Klopfy neck and back massager?
Self-massage that feels like the touch of real hands
FULL BODY MASSAGE WITH 2 EFFECTIVE MASSAGE TECHNIQUES.
With the two effective massage techniques and ergonomic design, it works effectively on all muscle groups, providing exceptional relief throughout your entire body. When it comes to treating the back area in particular, no other massage device can compete with Klopfy.
At-home wellness
FEELS LIKE HUMAN HANDS.
Equipped with eight 4D massage heads with infrared heat, along with two additional heads for percussion massage, the Klopfy neck and back massage device effortlessly glides over your entire body, recreating the soothing touch of a professional masseur. Treat yourself to a rejuvenating massage at the simple push of a button.
Heat therapy
ADDED COMFORT FOR YOUR ACHY MUSCLES.
With its two-level adjustable infrared heat, you can customize the temperature that is right for you, while with the integrated overheating protection you can enjoy a worry-free usage.
Experience the beneficial effects of heat: loosen up tight muscles, prevent and reduce muscle inflammation, improve the quality of sleep. What's more, the heat's ability to increase tissue elasticity and flexibility can lead to improved range of motion in muscles and joints.
2 Massage techniques in 1 device
FEEL THE DEEP RELIEF WITH SHIATSU AND TAPPING MASSAGE.
Donnerberg neck and back massager is based on the principles of Shiatsu massage, a form of Japanese body therapy. It is a holistic healing method that has a positive effect on the general well-being. This technique consists of applying finger pressure on various acupressure points in order to relax tight muscles, reduce muscle pain and discomfort.
Tapping massage, also known as percussion massage, is a unique technique originating from Swedish massage. It applies a series of rhythmic tapping movements to stimulate and invigorate the muscles. Tapping helps improve blood circulation, release tension and stiffness. Moreover, it has a calming impact on the nervous system, promoting deep relaxation and stress relief.
Why let the pain and tension hold you back when the solution is within reach?
There is nothing as relaxing as getting a massage. However, finding the time to schedule one can often be challenging. Fortunately, with the Donnerberg Klopfy back massager device, you can enjoy the benefits of a professional massage in the comfort of your own home or office.
Why should you choose the Klopfy back massager?
We are so convinced of the exceptional quality of our back and neck massager that we offer you a 7-year warranty! With its remarkably powerful motor, meticulously engineered for unrivaled durability you can rely on your Klopfy neck and back massager to always be ready for use!
German quality motor
YOUR PERSONAL MASSEUR THAT NEVER GETS TIRED.
With latest technology integrated into the manufacturing process, our motor is exceptionally durable. Whether it is a gentle relaxation massage or an intense deep pressure massage, the Donnerberg power motor consistently delivers a continuous supply energy with a minimal power consumption of just 36 watts.
Hygienic and eco-friendly
EXCHANGEABLE AND WASHABLE COVERS.
Our covers are easily replaceable and washable. Thanks to the patented zipper design, they can be easily removed and machine washed at 30°. You'll also receive two spare covers, allowing several people to use the massager at the same time. A hygienic cloth with Velcro ensures hygienic application, perfect for foot massage.
Do you have any questions?
We have extensive experience in the field of massage therapy and have been innovating and developing neck massagers for many years. If you have any questions, please don't hesitate to contact us. We would be happy to help you!
Relaxation is just a few clicks away.
Order your massager today!
Free delivery
We offer free shipping to EU/EEA countries on orders over £29.
Free 30-day returns
Try and test your favourite massager with our 30-day money back guarantee!
7-Year warranty
Shop with confidence. You can trust that your Donnerberg product is built to last.
Reliable customer support
Our team of multilingual experts is available on weekdays from 8 AM to 4 PM to assist you with advice and support.